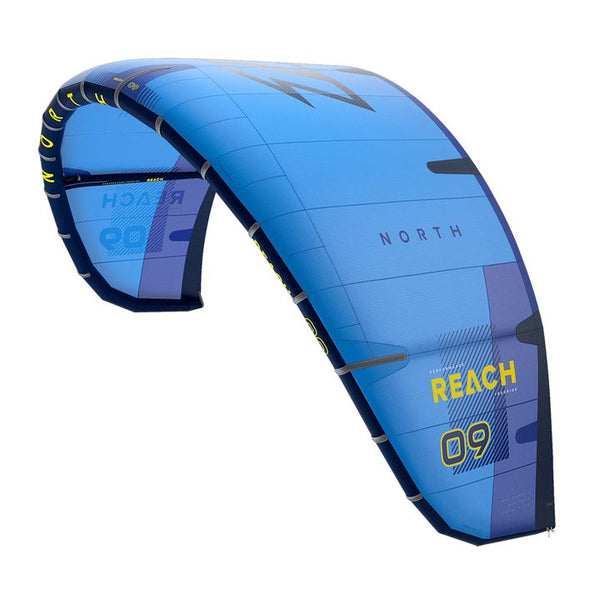 FREE
SHIPPING
100% MONEY
BACK GUARANTEE
ONLINE
SUPPORT 24/7
North Reach 2022 is the third edition of one of the world's best selling kites. Amazing ease of use combined with unparalleled relaunch, great boosting ability for big air and incredible drift that works so well on a surfboard and foil makes the new Reach the only kite you'll ever need.
For 2022 North has made it lighter by using N-Dure Dacron on the leading edge and struts but also by using lighter yet just as durable bladders. This translates directly to more responsive steering but it also aids using the new Reach on a hydrofoil in marginal winds.
Reach is not only a great boosting kite - it also loops really well. Different to Orbit, loops on the new Reach are smoother and easier to manage. So if you're learning how to get horizontal, the Reach is a great tool to get you there... and down too as it's really fast on the climb after the loop.
As with previous Reach kites, it's an upwind machine - so after throwing some massive jumps or when you're just learning, it's easy to get back up to where you've started. North has polished off the arc for 2022 giving the kite more wind range than before - the low end is also aided by the use of lighter Dacron.
As with all North kites, Reach has been built to last - from Kevlar-reinforced strut connections to the leading edge to DuraLite seam protection on the leading edge and higher tensile yarns. It also comes in North's recycled PET kite bag - 33 recycled plastic bottles go into each of them.
And as always - if you want to demo the 2022 North Reach - get in touch!