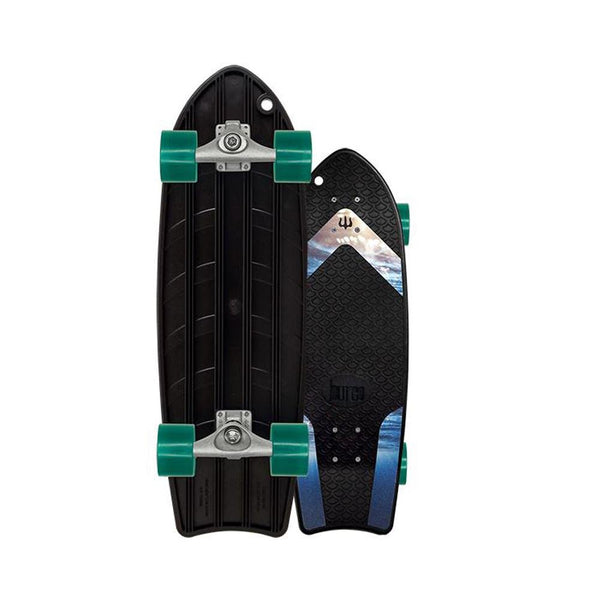 FREE
SHIPPING
100% MONEY
BACK GUARANTEE
ONLINE
SUPPORT 24/7
'The Ahi', a performance skateboard made from recycled fishing nets. Based on a best-selling Carver template, this model features a double kick and nose flip design, with a fully functional tail kick. Unlike any other plastic skateboard, The Ahi is wider and has concave providing true performance and the feeling of being locked-in when riding. Built for a lifetime of riding, the durable and rigid deck maintains stability and stiffness in all riding conditions.
By coupling our patented surfskate technology with Bureo's philanthropic sustainable manufacturing process, this little ripper will not only improve your surfing but also empower you to help save the ocean that we depend on and love so much.
This board comes with a fish scale grip pattern with custom grip tape, a unique fisheye locking hole, stainless steel hardware and Carver's Roundhouse wheels.
Specs:
9" wide 

5 1/4" tail  

3 1/2" nose 

14 " wheelbase

Stock wheels - Ecothane 65mm/81A Aqua Mags.

Trucks: CX
CX TRUCKS
This is Carver's hybrid surf and skate truck. On the one hand it's a lightweight standard RKP (Reverse King Pin) hanger and base, on the other it has a patented geometry that squeezes every bit of turn and pump from the system. This means that you can pump this truck like a C7, but it lands airs and rides fakie with more stability as well. This opens up aerial manoeuvres, and keys in with the latest progression of airs in surfing.

1x 6.5" CX.4 front truck

1x 6.5" C2 back truck

4x CX/C2 gasket risers