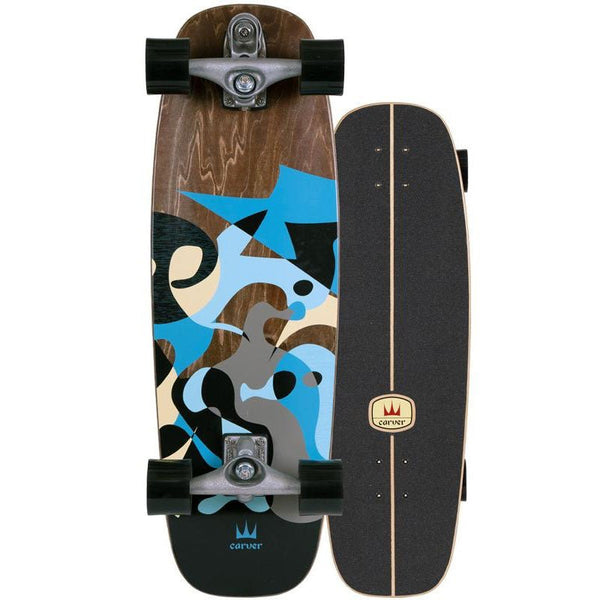 FREE
SHIPPING
100% MONEY
BACK GUARANTEE
ONLINE
SUPPORT 24/7
Carver 30" Blue Ray Surfskate - C7 Complete
With a nearly symmetrical template, this softly rounded rectangle provides a stylish and comfortable place to put your feet while you thread through the asphalt metropolis. Or, putting it in more down-to-earth terms - the Carver Blue Ray 30" gives you a larger platform to shred with more stability than it's smaller brother. There. And here's some Modernism Art lesson for y'all!

Charles and Ray Eames have created some of the most iconic Modernist classics ever made. And they did most of their groundbreaking work just a few blocks from Carver design studio in Venice, California. Carver believes that their experiments in bent wood are part of an untold history that led directly to innovations that years later produced the modern skateboard deck.

They have been a huge inspiration to everyone and a standard bearer for Carver aspirations. This pair of skateboards is Carver's homage to these design gurus. At the time, Charles got most of the credit for their work but it was Ray who actually was the artist. Integrating her painting and sculpture style into textiles and furniture produced by their studio. For these series Carver has combined the rounded rectangle reminiscent of their famous bent wood chairs with an original interpretation of one of Ray's early paintings.

Deck Specs:
9 1/2" wide
17" wheelbase

Set Up:
Front Truck - 6.5" C7
Back Truck - 6.5" C2
Griptape Style - Badge Die Cut
Stock Wheels - 69mm/78A Smoke Concaves

C7 Trucks
This is the signature truck that started it all. Still the smoothest turning, fastest pumping surf truck ever, it's at the leading edge of true surfskate performance. The patented second axis of this front truck not only increases the turning radius of your carve, but lets you snap the nose and pivot your turns off the tail. This dynamic creates thrust and drives you forward with increasing speed. The striking similarity to surfing performance has made the C7 the choice for surf training by Pros and Ams alike.
CX TRUCKS
This is Carver's hybrid surf and skate truck. On the one hand it's a lightweight standard RKP (Reverse King Pin) hanger and base, on the other it has a patented geometry that squeezes every bit of turn and pump from the system. This means that you can pump this truck like a C7, but it lands airs and rides fakie with more stability as well. This opens up aerial manoeuvres, and keys in with the latest progression of airs in surfing.

1x 6.5" CX.4 front truck

1x 6.5" C2 back truck

4x CX/C2 gasket risers