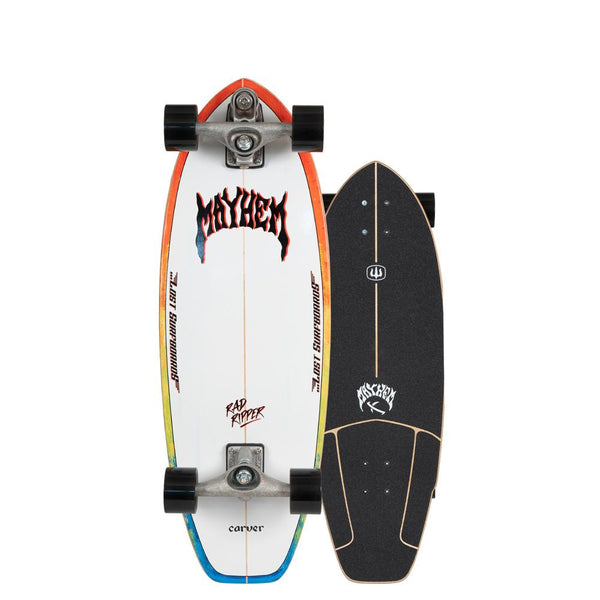 FREE
SHIPPING
100% MONEY
BACK GUARANTEE
ONLINE
SUPPORT 24/7
Carver 31" ...Lost Rad Ripper - Surf Skate
Extra wide for a smooth sidewalk glide, the Rad Ripper features a retro 80's vibe with rainbow rails, tail wings and classic logos, while the longer wheelbase stretches out your stance for a fast pumping ride.



Deck specs:

10 1/2" wide
17 1/4" wheelbase

Set Up:

Front Truck - 6.5" C7
Back Truck - 6.5" C2
Griptape Style - Mayhem Single Stringer
Stock Wheels - 68mm/78A Smoke Mags


C7 Trucks
This is the signature truck that started it all. Still the smoothest turning, fastest pumping surf truck ever, it's at the leading edge of true surfskate performance. The patented second axis of this front truck not only increases the turning radius of your carve, but lets you snap the nose and pivot your turns off the tail. This dynamic creates thrust and drives you forward with increasing speed. The striking similarity to surfing performance has made the C7 the choice for surf training by Pros and Ams alike.
CX TRUCKS
This is Carver's hybrid surf and skate truck. On the one hand it's a lightweight standard RKP (Reverse King Pin) hanger and base, on the other it has a patented geometry that squeezes every bit of turn and pump from the system. This means that you can pump this truck like a C7, but it lands airs and rides fakie with more stability as well. This opens up aerial manoeuvres, and keys in with the latest progression of airs in surfing.

1x 6.5" CX.4 front truck

1x 6.5" C2 back truck

4x CX/C2 gasket risers