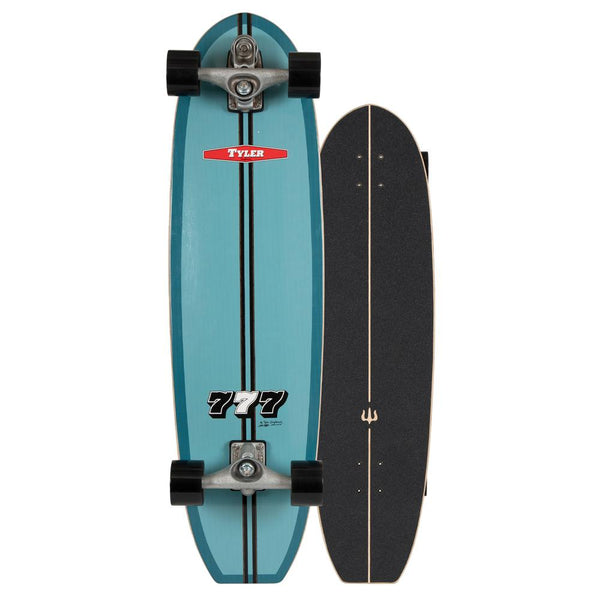 FREE
SHIPPING
100% MONEY
BACK GUARANTEE
ONLINE
SUPPORT 24/7
Carver Tyler 777 36.5"
Tyler Hatzikian shapes 'progressive-traditionals', an evolution of the classic longboard that combines smooth trimming with responsive carving, represented here with this archetypal square-tailed, mid-length log that has just a hint of point to the nose, based on his classic '777' nose rider. It's just long enough for a little walk up and back, and short enough for easy pushing and fast down-the-line pumping.

Deck Specs:

10" wide
4" tail
7" nose
21 1/4" wheelbase

Set Up:
Front Truck - 6.5" C7
Back Truck - 6.5" C2
Griptape Style - Icon
Stock Wheels - 70mm/78A Smoke Mags

C7 Trucks
This is the signature truck that started it all. Still the smoothest turning, fastest pumping surf truck ever, it's at the leading edge of true surfskate performance. The patented second axis of this front truck not only increases the turning radius of your carve, but lets you snap the nose and pivot your turns off the tail. This dynamic creates thrust and drives you forward with increasing speed. The striking similarity to surfing performance has made the C7 the choice for surf training by Pros and Ams alike.