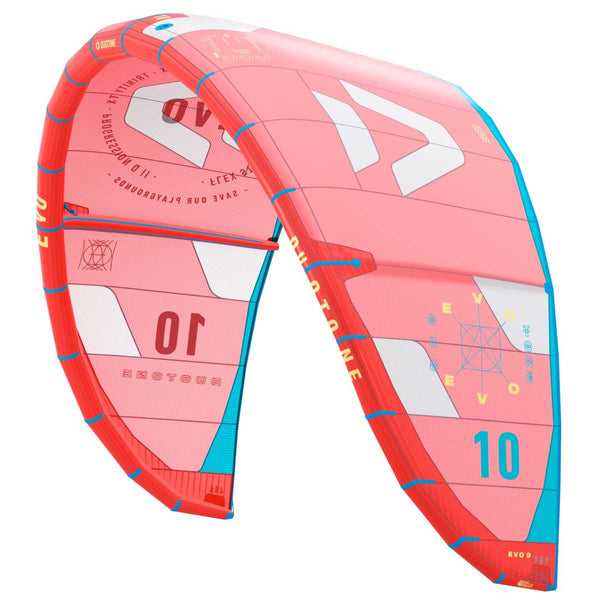 FREE
SHIPPING
100% MONEY
BACK GUARANTEE
ONLINE
SUPPORT 24/7
Duotone Evo is one of the world's best selling kites for many reasons. It's the most user-friendly and intuitive kite to fly, very predictable and ideal for cross-discipline use. It's awesome for throwing massive jumps and hooked tricks, strapless surfing and foiling. It's the one kite that does it all if you're one of the riders who switches up boards during one session.
We have been extensively using Duotone Evo for everything we do on the water and it never disappoints. It's a great kite for both beginners and advanced riders alike. Thanks to medium bar pressure you always know where the kite is in the sky without putting your arms into an overdrive. The easy relaunch helps no matter what level you're at - whether you're just getting into grips with kitesurfing or you've crashed kite kite in front of closing lip of a wave.
Jumps on Evo are very floaty with hang time nearing Duotone Rebel. It's super easy to get a decent height too even if you mess up the take off - soft landings included as standard. It absolutely boosts confidence in the air, even in gusty winds which we have plenty on our local spots. Thanks to loftiness it's an ideal kite to work on your hooked-in tricks knowing you've got enough float to work on your rotations. When getting into kite loops we've found it pretty easy going - it doesn't produce as much pull as the Dice so it's ideal for those wanting to feel safe during the loop
The 2022 Duotone Evo is made out of the market-leading Trinity TX canopy providing the highest breaking and tearing strength without compromising the weight of the kite. For lighter, stronger and faster Evo we recommend having a look at the Duotone Evo SLS here.
All Duotone kites are available for demo - both at our local spot as well as via post. Contact us for more details.