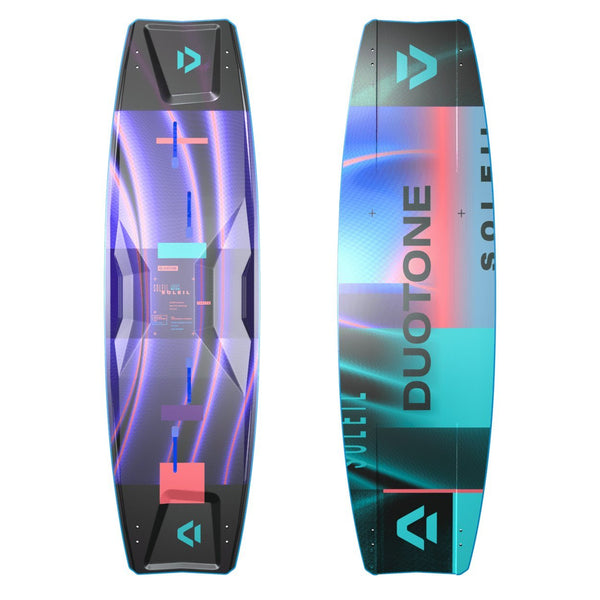 FREE
SHIPPING
100% MONEY
BACK GUARANTEE
ONLINE
SUPPORT 24/7
Are you a female kiteboarder searching for gear tailored to your smaller frame and weight? Look no further than Duotone Soleil, a board thoughtfully crafted by women, for women. This board offers a narrower outline, delivering an exhilarating carving experience from rail to rail. Its larger Space Flex windows in the tips guarantee a smooth ride, no matter the conditions.
What sets the Soleil apart is its asymmetrical top deck design, concentrating flex on the heel edge. This innovation makes edging and popping easier than ever before. In 2024, the Soleil joins the Concept Blue range, featuring a more sustainable construction technique. Flax Fiber replaces traditional glass cloth, providing exceptional dampening for a seamless ride. Basalt Stringers, made from natural volcanic rock, replace the carbon beam, ensuring sustainability while maintaining an engaging ride.
Perfect for freeride, big air, and cruising, the Soleil is your ticket to elevating your kiteboarding skills to new heights.
| SIZE | RIDER WEIGHT | FINSET | BOARD WEIGHT* |
| --- | --- | --- | --- |
| 128/37 | <60KG | S-BEND FS 4.5 CARBON 30 | 2.27KG |
| 132/38 | 55-70KG | S-BEND FS 4.5 CARBON 30 | 2.51KG |
| 136/39 | 65-85KG | S-BEND FS 4.5 CARBON 30 | 2.75KG |