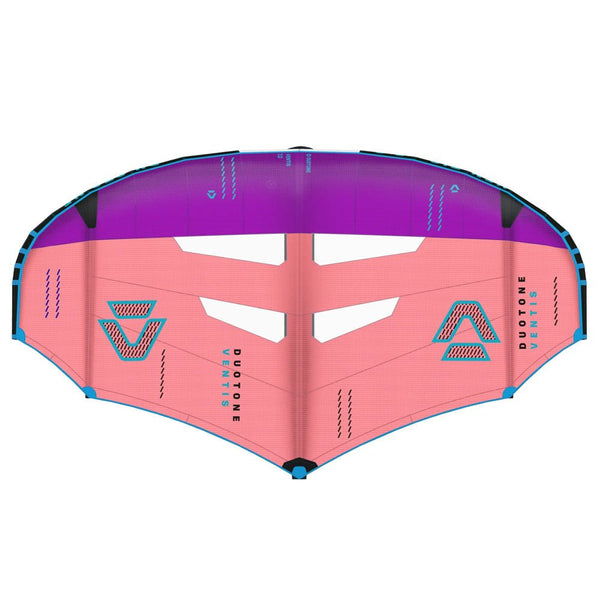 FREE
SHIPPING
100% MONEY
BACK GUARANTEE
ONLINE
SUPPORT 24/7
Introducing our latest addition to the light wind wing foiling lineup: the Duotone Ventis. Experience the thrill of flying while others remain grounded, thanks to its exceptional lift and power packed into a sleek, streamlined wing design. In the past, light wind wing foiling required advanced pumping techniques, but the Ventis revolutionizes marginal conditions by providing active lift that effortlessly lifts you onto the foil without excessive pumping.
By incorporating two side struts, we've maintained a rigid frame and wing profile while reducing the chances of catching or dragging the wing tip during takeoff or pumping. Even smaller or less experienced riders can handle the 7m and 8m sizes, thanks to this effective tip reduction. The side struts not only enhance maneuverability but also ensure the canopy's profile extends all the way to the tips, resulting in increased lift, power, flying stability, and depower across the entire wing surface. Efficiency and performance are paramount in the design of the Duotone Ventis.
Duotone's lightweight 50g ripstop canopy material with careful thread orientation in each panel keeps the wing's large canopy area as light as possible without compromising direct response and performance. The longer carbon front handle enables one-handed riding and improves handling and maneuver execution. The Ventis' strut profile enhances the ergonomics of the handles, offering a more comfortable hand angle and allowing for a straighter back arm position, leading to longer and more enjoyable sessions on the water. Embrace the challenge of the impossible and seize the opportunities with the Duotone Ventis.