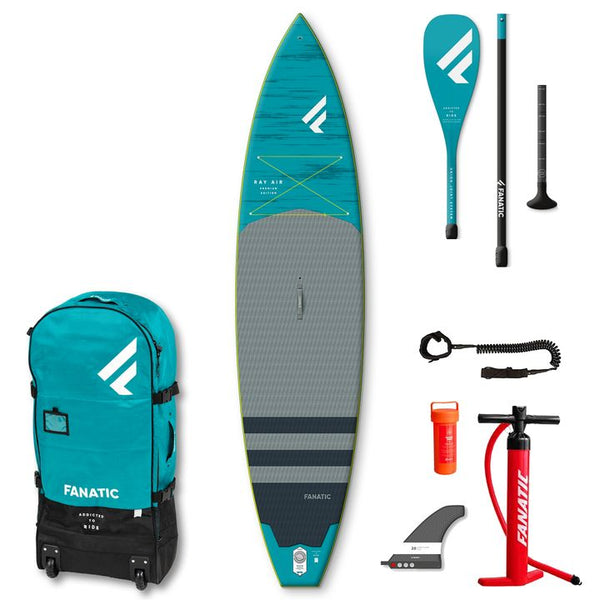 FREE
SHIPPING
100% MONEY
BACK GUARANTEE
ONLINE
SUPPORT 24/7
Fanatic Ray Air Premium is the closest you'll get to a hardboard feel with the convenience of being able to pack it away and chuck it in the back of a small car. The super stiff construction will allow you to cover long distances with ease. Fanatic Ray Premium glides like a dream but still provides ample amounts of stability due to a decent amount of width per size.

Fanatic Ray Air Premium 11'6" x 31" - 299 litres - riders up to 110kg
Fanatic Ray Air Premium 12'6" x 32" - 339 litres - riders up to 120kg
Fanatic Ray Air Premium 13'0" x 35" - 400 litres - riders up to 130kg

It's worth noting that the 13'0" model has an additional luggage webbing at the tail of the board. So if you're after the ultimate touring SUP capable of longer trips with more equipment on board - this is the one to go for.

Fanatic Ray Air Premium SUP board is perfect for riders of all levels - from absolute beginners to advanced paddlers looking for a fast, stable and super stiff board.

The Double Layer Light technology is Fanatic's most Premium construction. Featuring a second PVC layer, which is welded directly to the core layers and around the V-Drop Stitch material – the heart of each Fanatic Inflatable. An additional third layer of coloured rail bands round off the highly durable and premium quality, with stylish optics of the deck print. The benefits of the Double Layer Light construction when compared to the standard Double Layer technology is a 20 – 25 % reduction in weight, and around 25 – 30 % increase in stiffness.