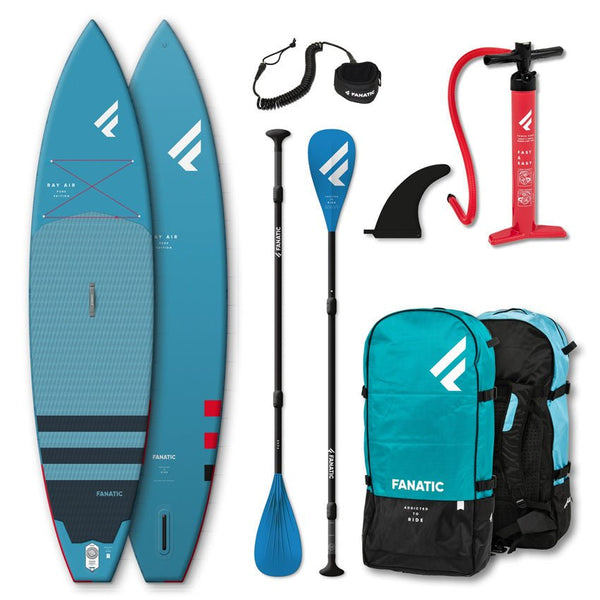 FREE
SHIPPING
100% MONEY
BACK GUARANTEE
ONLINE
SUPPORT 24/7
Sku:
fanatic-pure-air-126
The 2022 Fanatic 12'6 Ray Air Pure is a SUP inflatable with a touring shape, giving it exceptional glide; perfect for SUP fitness and exploring. Despite its sporty feel, it is very stable and an extremely accessible paddleboard for all kinds of paddler. Combine this with the Fanatic 12'6 Ray Air Pure being the most affordable touring board in the Fanatic SUP range and you have a great board from an established manufacturer at a superb price.
The Fanatic 12'6 Ray Air Pure's tapered nose and extended waterline are in part responsible for the paddleboard's exceptional glide and tracking, providing a streamlined shape that allows efficient and smooth forward motion. This is assisted by the SUP inflatable's optimised thickness, creating incredibly rigid board with a flat rocker and high vertical profile, which has the bonus effect of keeping you and any luggage you're carrying high and dry.
Package includes:
Fanatic Ray Air Pure 12'6" x 32" - 2021 SUP Board
Fanatic Pure Paddle - 3 Piece
Fanatic Premium SUP Bag
Fanatic Power SUP Pump HP2
Fanatic SUP Repair Kit
Fanatic Coiled Leash
The paddle board's tail also tapers significantly, assisting in the release of water and contributing to the SUP's great glide. The tail is squared off at the end, providing extra lateral stability, minimising wobble by providing extra surface area and producing additional glide.
The Fanatic 12'6 Ray Air Pure uses Fanatic's single-layer construction - Drop-Stitch Light Technology. Utilising the high-quality materials and production process that we've come to expect from Fanatic, but with a much more agreeable price, the Fanatic 12'6 Ray Air Pure is the ideal inflatable paddleboard for those on budget.
In addition to this, the Fanatic 12'6 Ray Air Pure boasts several other fantastic features, such as an integrated deck net for attaching luggage and high quality towing eyelets, as well as a comfortable handle - the Fanatic 12'6 Ray Air Pure is a superb inflatable SUP to be enjoyed by everyone!
To find out how to test the Fanatic 12'6 Ray Air Pure and other boards and paddles from the Fanatic range, visit the Fanatic Test Centre.
Fanatic 12'6" x 32" Ray Air Pure Specification -
Fanatic 12'6" x 32" Ray Air Pure features –
Stable & Efficient Glide.