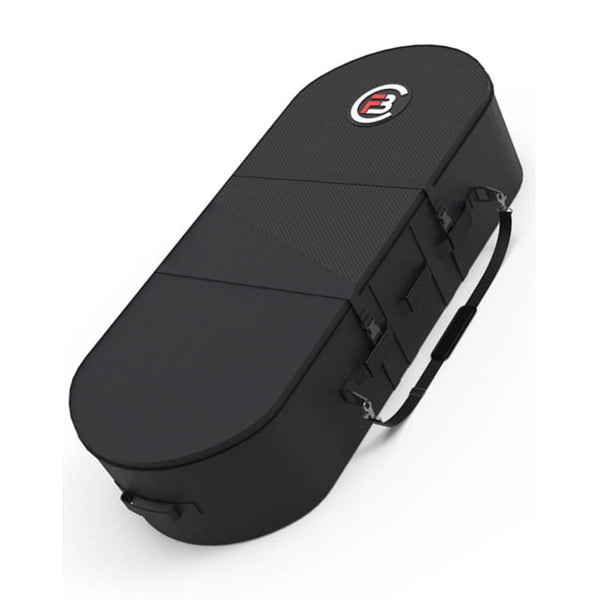 FREE
SHIPPING
100% MONEY
BACK GUARANTEE
ONLINE
SUPPORT 24/7
Traveling with wing foiling gear always seemed pretty complex until FBC released their new wing foiling travel board bag. It's well padded yet compact and light enough to make flying with your kit easier. Rentals are typically in the region of £85 per day so it only makes sense to take the equipment with you.
Here's what fits inside one FBC Wing Foil Travel Bag:

three wings
one complete foil setup
alternative front wings and rear stabs, nuts and bolts
foil board


Wing Foil Travel Bag Key Features:
- 10mm padded 680D nylon (sides/bottom/tail) with our FBC Hex-Tech water repellant material on the top. These combine to make a super tough, yet light, travel bag.
- HD shoulder strap allowing for easy carrying. Once at the destination and the bag isn't needed until the return, use this HD strap to wrap around the travel bag and compact it down.
- Triple convenient carry handles make it so much easier to move this bag on and off scales, trolleys and roof racks. A simple idea but hugely effective.
- Padded removable foil leaf which has designated padded pockets for two front wings, 3 rear stabs, one mast, one fuselage. As well as this we have a mesh pocket for all the nuts and bolts you could need.
- Padded front and rear carry handles make it a dream to transport the travel bag.
- Under the foil leaf there are two tie down straps. These can encompass the foil leaf as well as the board keeping everything secure and tight.
- On top of the foil sleeve we have engineered in enough space for 3 / 4 wings. This means everything is all in one convenient, protected, light weight bag.
Wing Foil Travel Bag Sizing:
| | | | |
| --- | --- | --- | --- |
|   | Small | Medium | Large |
| Board Volume | <80ltr | 80 – 100ltr | 100 – 125ltr |
| Length | 165cm | 175cm | 195cm |
| Width | 75cm | 80cm | 90cm |
| Weight | 3.7kg | 4.3kg | 4.98kg |