FREE
SHIPPING
100% MONEY
BACK GUARANTEE
ONLINE
SUPPORT 24/7
Step up your game with a Mystic Marshall 5/3 BackZip wetsuit. Hand-sketched by our design team and tested on multiple fitting models to get the perfect fit. Fox Fleece lining on the chest and back panels. Check. 4-way stretch Hex-tech kneepads and a shin protection layer. Double-check. To keep you warm, and to keep cold water out, all seams are Glued Blind Stitched and critically taped on the inside. Mystic Marshall 5/3 BackZip is the perfect combination of affordable and full of features suits that deliver a comfortable and flexible feel.

Waterproof stretch position taping 50%
A neoprene taping is positioned on the critical seams of the suit. This prevents water from coming through the seams on critical points of the human body.

Glued blind stitched
Stitching method whereby the panels are first glued together and then only stitched halfway through the fabric instead of fully perforating it, which makes the seams waterproof.

Back-zip
The back-zip is the classic wetsuit closure, due to the wide zipper opening on the back the entry is very easy. Depending on the model the zipper is often double lined to prevent water entry through the zipper.

Overhead backup shield
You can find the Overhead Backup Shield in all of our Back-zip wetsuits. The neoprene back panel prevents water from entering through the zipper and neck by pulling the collar over your head.

Aquaflush
Wipe out or simply needed to take a leak? The perforated neoprene patches on the lower leg, that we like to call Aquaflush, will ensure that all liquids exit the suit easily.

Shin protection
Taking a rail to the shins isn't fun, but having EVA padding in our Shin Protection lowers the impact of your board by a ton.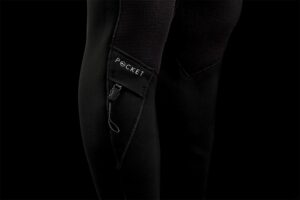 Key pocket 2.0: keyloop with mini-buckle
An external neoprene key pocket conveniently positioned on the lower leg of the suit. The standard key loop is now equipped with a mini-buckle to release your key with ease while making sure your key is safe inside.
Glideskin neck construction
Hex-tech kneepads
Velcro ankle closure straps (included)
Non slip cuffs