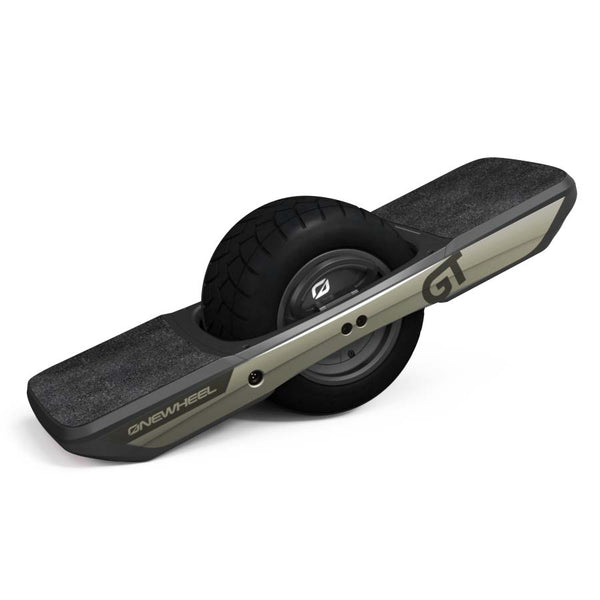 FREE
SHIPPING
100% MONEY
BACK GUARANTEE
ONLINE
SUPPORT 24/7
The Onewheel GT is a pinnacle of technology and we're absolutely in love with ours. Building on an enormous success of previous models, Onewheel GT has been built from ground-up sharing very little with its predecessors. It's an aggressive board - from its looks to insane amount of performance. It's designed to shred hard!
The newly designed battery pack allows not only for a much larger range - of up to 32 miles. That's 60% more range than the XR! We've been putting the new GT through its paces for months now and with hundreds of miles covered it's by far our favourite board to cover long distances and smash trails. 
It also also provides more power that translates into more torque - 50% more over XR More torque means you can ride on terrain that was almost unrideable before, climb with more ease and have more confidence in the board in more challenging conditions. We've definitely felt more confident riding uphill and going on our local trails. The additional power not only makes riding safer but it also feels much smoother as the torque is always there to carry you through acceleration and carves.

The new Onewheel GT features concave footpads on both front and the back of the board. This allows for much more locked-in feel which comes in really handy off road and around tight corners.
The board now comes with a Maghandle Pro as standard. You can also choose the Onewheel GT with a threaded tyre - that helps in riding off road and adds grip when riding in damp conditions. Both new Onewheel GT tyres feel a lot more carvy than XR making the riding experience much more enjoyable. Not to mention that you can still customise the feel of the board to make it your own or adapt it to the terrain you intend to ride by using the Onewheel App The headlights got an upgrade too - they are 300% brighter which will make nighttime riding so much safer.

Demo Onewheel GT
If you want to demo the Onewheel GT feel free to come by our shop near Edinburgh - no booking necessary, we always have the GT and PintX ready to rock. And our knowledgable staff will show you the ropes. If you're collecting your Onewheel from us - give us a call ahead and we'll make sure it's charged and ready to go.
The Onewheel GT specs:
Range: up to 32 miles (up to 52km)
Top speed: up to 20 mph (up to 32kph)