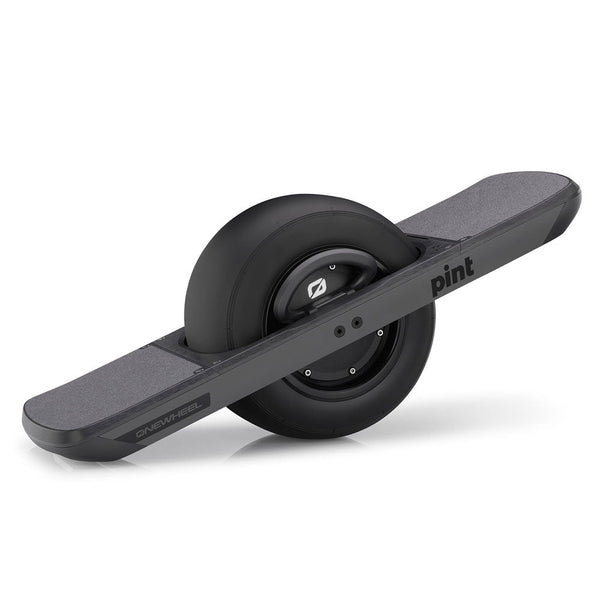 FREE
SHIPPING
100% MONEY
BACK GUARANTEE
ONLINE
SUPPORT 24/7
The Onewheel Pint is the Onewheel we've all been waiting for. Smaller and lighter than it's bigger brother, the Pint is the ultimate fun-sized stoke machine that will take you for some epic journeys taking less space at home and in the back of your car. It's also much more affordable than XR but also very, very capable.
It works amazingly well in cities but it's also no stranger to trails. We've been cruising ours all over Scotland and it didn't miss a beat. It feels more nimble and responsive than XR but also easier to ride and to master. If the XR is a supercharged pickup truck, this feels more like 911. The pint feels easier to throw around the corners, do tight carves. It's also epic for smaller riders looking for a compact ultimate floating machine!
CONTACT US FOR AVAILABILITY!
The Onewheel Pint is basically a very cool version of a unicycle that's controlled by body movements. It's so intuitive you'll pick it up in minutes after setting off for the first time. To go forward and accelerate all you have to do is to lean forward. To stop, lean back. The board is self-balancing meaning that once you step on this, you're not going to fall off. It's an epic sensation of floating over the roads and trails with no effort. It's hard to explain how epic it is really - so feel free to give us a shout for a demo, you'll be hooked and you'll never back!
This little pocket-rocket, thanks to a lot of tech-wizardy and thick tyre, has a top speed of 16mph and up to 8 miles range. In real-life terms - that's a lot! We rarely ever run out of juice on these. If you want more power, speed and range, check out the Onewheel XR here.
The Onewheel Pint comes with an app that allows you to track your journeys, check the charge levels but also to change riding profiles tailoring the board to the terrain you're floating over and making the board more or less responsive when you're learning. The Pint is also equipped with lights on both sides to be clearly visible in the dark but also so you can see where you're going!
If you have any questions - feel free to give us a shout. We ride and love our Onewheels so we'll happily advise you on the best options, riding techniques and any tech questions you have. We also have demo units at our Onewheel Store and we'll happily show you the ropes when you come to collect yours.
Onewheel Pint Key Features
Hypercore Brushless Motor
No Remote (Lean To Go)
Intelligent Led Lights
16mph / 26Kph Top Speed
Crush Hills
Up To 6-8mi / 10-13km
Range Stop On A Dime
App Connected