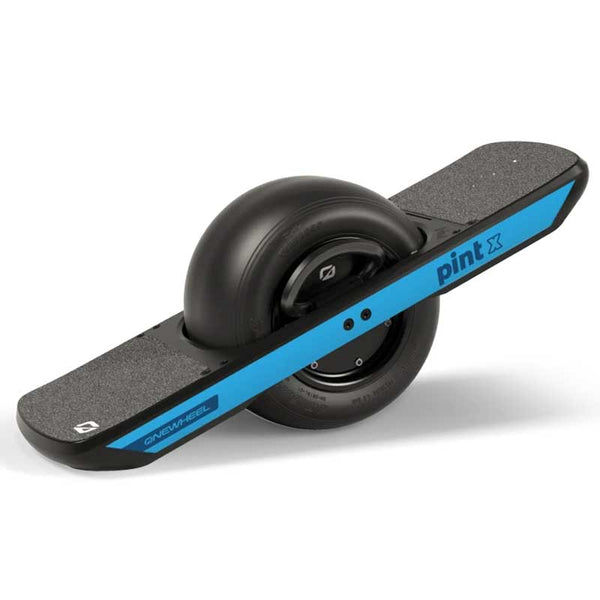 FREE
SHIPPING
100% MONEY
BACK GUARANTEE
ONLINE
SUPPORT 24/7
Sku:
Onewheel Pint X Blue
Onewheel Pint X is now faster and offers longer rides. We absolutely loved the original Pint but this little thing became a beast in the newest iteration. The difference in torque when tested back to back is breathtaking. Not to mention the increased range of up to 18 miles. Combined with manoeuvrability and portability the Pint was known for it's a no-brainer if you don't want a large board like the GT. 
PRE-ORDER ONLY - MORE STOCK COMING IN END OF AUGUST - RESERVE YOURS TODAY!
Our team has been riding Onewheels for the last few years and if you live nearby our store in Edinburgh feel free to drop in for an intro or a demo session on either Pint X or the GT. We'll show you the ropes, pour you some decent coffee (or tea!) and get you riding in no time.
We also offer custom packages, so if the one you're after isn't listed above let us know and we'll put something together for you.
Pint X is the ultimate electric skateboard experience that takes adrenaline-pumping rides to new heights! With its cutting-edge features and innovative design, this remarkable device is guaranteed to leave you craving more extreme adventures.

The Onewheel Pint X is engineered to push boundaries and redefine the way you navigate the urban jungle. Built with top-of-the-line components and expert craftsmanship, this electric skateboard offers unparalleled performance and durability. Its sleek and compact form factor ensures effortless portability, making it the ideal companion for city dwellers, commuters, and thrill-seekers alike.
Unleash your inner adventurer as you effortlessly glide through the streets on the Onewheel Pint X. Equipped with a powerful and responsive motor, this beast is capable of reaching exhilarating speeds, allowing you to experience the thrill of the ride like never before. Whether you're zooming through traffic, cruising along beachside paths, or exploring uncharted territories, the Pint X offers an electrifying ride that will leave you craving more.
Designed with safety as a top priority, the Onewheel Pint X boasts intelligent features that enhance stability and control. The integrated sensors and advanced algorithms ensure precise manoeuvrability, allowing you to effortlessly carve tight turns and navigate challenging terrains. With customisable riding modes, you can tailor the board's performance to your skill level, ensuring a safe and enjoyable experience for riders of all proficiency levels.

One of the standout features of the Onewheel Pint X is its revolutionary self-balancing technology. Thanks to the intelligent sensors and gyroscopic stabilisation, the board automatically adjusts to your body movements, providing a smooth and intuitive ride. Whether you're a seasoned rider or a beginner, you'll feel like a pro as you effortlessly carve through the streets, leaving a trail of envy in your wake.

Experience a new level of freedom with the Onewheel Pint X's impressive range and battery life. Powered by a high-capacity battery pack, this electric skateboard lets you embark on epic adventures without worrying about running out of juice. Cruise through the city for miles on end, exploring every nook and cranny, and revel in the thrill of the ride knowing that the Pint X has your back.

Not only does the Onewheel Pint X deliver exhilarating performance, but it also offers an unmatched level of customisation. With the companion app, you can fine-tune various parameters, such as speed limits, responsiveness, and even choose from a wide range of LED light patterns to personalise your ride. Stand out from the crowd and make a statement as you zip through the city in style.
Crafted with premium materials and attention to detail, the Onewheel Pint X is built to last. From the rugged tires that can tackle any terrain to the durable frame that withstands the test of time, every component is meticulously engineered to ensure reliability and longevity. Say goodbye to the worries of wear and tear and focus on the thrill of the ride.

In conclusion, the Onewheel Pint X is the epitome of electric skateboard innovation. Its unrivalled performance, intelligent features, and sleek design make it a must-have for adventure enthusiasts and urban commuters. Whether you're a seasoned rider or just getting started, this electric skateboard will elevate your riding experience to new heights. So, strap on your helmet, grab your Onewheel Pint X, and prepare for an electrifying journey like no other.
In a nutshell the new Onewheel Pint X:

has an increased range to 12-18 miles per charge,
has an increased top speed of up to 18mph,
same epic Onewheel Pint feel and small form factor we all love!
If you want a Onewheel that's easy to live with, easy to carry around, store and to whip around tight corners without sacrificing the range the new Onewheel Pint X is the way to go. Best of all - you can demo the board at our store in Scotland. We'll show you the ropes in our spacious parking lot and nearby paths.

Range: up to 18 miles
Top speed:

 18 

mph


We all ride Onewheels at our store - so if you have any questions - hit us up and we'll be happy to answer all questions you have.