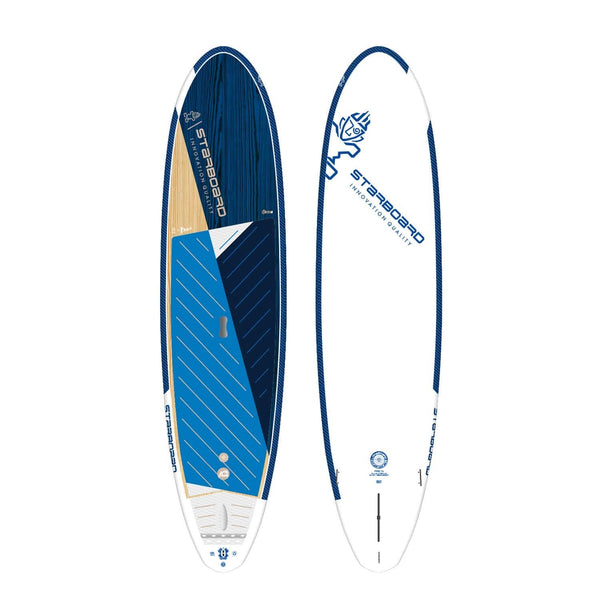 FREE
SHIPPING
100% MONEY
BACK GUARANTEE
ONLINE
SUPPORT 24/7
The Starboard Longboard has earned the prestigious SUP Boarder high-performance award due to its remarkable versatility, responsiveness, and smooth turning capabilities in all conditions.

The board's low volume and thinned out rails enable easy engagement with minimal foot pressure, granting control down the wave face and stability through steeper sections. Its parallel outline ensures a smooth and fast glide, while the full nose provides ample float and stability for classic longboard styling, including riding toes on the nose. The diamond tail and moderate tail kick make it highly responsive, allowing for effortless and swift turns during bottom and top maneuvers.

The Longboard is designed to handle a wide range of wave conditions, from 1-foot small beach breaks to head high reef breaks, making it a fantastic one-board quiver. It comes in four sizes, ranging from 9'0"x26" to 10'0"x31", and three technologies, including the Limited series, offering options that suit various skill levels and rider weights.

Let's delve into the key features of the Starboard Longboard:

Outline - The parallel straight outline in the mid-point ensures a smooth and fast glide, making it easy to trim on the board. The narrow diamond tail is highly reactive during bottom turns, while the fuller nose outline provides the required float and stability for nose riding.

Rocker - The gradual nose kick allows for smooth take-offs into waves without pearling. The relatively flat midsection ensures speed, which transitions into a moderate tail kick for responsive turning.

Bottom Shape - The board features a defined double concave from the nose to a distinct vee at the tail. The prominent double concave mid-section allows effortless rail-to-rail transitions, while the pronounced vee tail provides crisp and reactive turning.

Rails - The low volume and thinned out rails are essential for performance. They allow for easy engagement with minimal foot pressure, granting control and responsiveness down the wave face. The flat deck enhances stability and smooth transitions for extended carves and cutbacks.

Construction - Both Blue Carbon and Starlite models have a reinforced layup with T-stringers and lightweight UD Carbon to increase stiffness and overall strength, which is vital for maintaining durability with the thin profile.

Fin Position and Set Up - The side fins are placed very close to the rail, enabling precise carving and hold through turns, while the center fin provides tracking and drive. The recommended fin set up is a 185 center fin and 4.5" side fins, offering the perfect balance of drive and tracking.

Now, let's determine the right size of the Starboard Longboard based on individual preferences:

9'0" x 26" - Perfect for highly skilled and lightweight riders up to 75kg, with a narrower width that allows fitting into critical sections of waves, generating faster speeds, and providing ultra-reactive foot pressure. It features a unique concave nose for long nose riding.
9'0" x 28" - Suited for lighter riders seeking faster and more reactive manoeuvrability.
10'0" x 29" - Offers more glide and speed due to its longer length, with a 29" width providing a wider platform and greater stability, suitable for heavier riders.
10'0" x 31" - Provides more volume and float, catering to heavier riders up to 110kg. The added thickness in the standing area and wider width deliver a super stable ride, while retaining the bite and responsiveness that make this model perform exceptionally well.