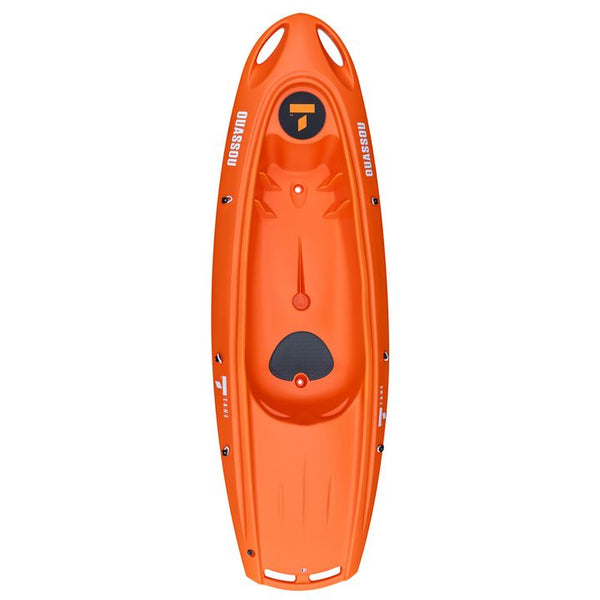 FREE
SHIPPING
100% MONEY
BACK GUARANTEE
ONLINE
SUPPORT 24/7
The Tahe Ouassou kayak is specifically designed to offer versatility and easy maneuverability, making it perfect for enjoyable beach activities. With stern handles that allow you to hold on and swim, as well as providing convenient access on board, it enhances the overall experience. Additionally, the Ouassou excels in handling surf and waves, ensuring a comfortable ride.

The hull of the kayak features a unique design inspired by surf longboards and rodeo kayaks, resembling a spatula shape. This design incorporates a slight keel and lateral rail, providing excellent tracking and maintaining directional stability. To further enhance control in waves or whitewater, the Ouassou offers an optional knee-strap system, allowing you to secure your body to the cockpit.

Furthermore, the Ouassou is equipped with three inserts on its hull, enabling the attachment of soft Thruster fins. These fins, available as a separate accessory, significantly improve the kayak's performance in waves. Thanks to its compact size and lightweight construction, the Ouassou is incredibly easy to maneuver, transport, and store.
Ideal for:
Short excursions and close to shore adventure

Surfing in ocean waves

Family fun with rear swim platform for children

TST – TWIN SHEET TECHNOLOGY
TAHE kayaks employ an exclusive construction technique called Twin Sheet technology, which involves using thermoformed Polyethylene sheets. Through this process, the deck and hull sections are molded and sealed together in a single operation. This fusion results in an exceptionally durable and unique kayak manufacturing method. The join line between the sections is invisible and offers 100% security. Additionally, this process includes anti-UV treatment, making the kayaks resistant to sun damage.

The kayaks feature a 7 mm Polyethylene skin that is also treated with anti-UV properties. This skin is not only strong and durable but highly resistant to impacts, knocks, and scratches, ensuring exceptional longevity.

Here are the key features of the Twin Sheet technology:

1. The deck and hull sheets are thermoformed together in one operation, creating a fusion that strengthens the kayak's rail and provides maximum durability.
2. The thermoforming of the deck and hull sheets occurs in precision aluminum molds, resulting in a kayak with a high-quality shape that enhances glide and performance.
3. The kayaks are equipped with replaceable front and rear bumpers, which protect against abrasion and general wear and tear, ensuring prolonged usage.

KEY FEATURES & BENEFITS
A FUN AND VERSATILE BEACH KAYAK
Ideal for short excursions and learning to ride the waves
WIDE REAR AREA
For carrying children or for diving/jumping
WIDE, SPATULA HULL SHAPE
For extra stability and great handling in surf
TRIPLE-LEVEL MOULDED FOOT RESTS
To suit all sizes of paddler
BOW, STERN AND HULL MOUNTED CARRY HANDLES
For easy transportation
REMOVABLE FINS (OPTIONAL)
For increased steering control and better performance in waves
SINGLE-SEATER
With space for 1 child passenger
TOUGH TST THERMOFORMED CONSTRUCTION
To ensure maximum usage in maximum safety
ERGONOMIC, ANTI-SLIP SEATS
100% MADE IN FRANCE
100% RECYCLABLE
At the end of useful life to respect the environment
THE OUASSOU COMES WITH:
1x Ouassou Kayak
TWIN SHEET TECHNOLOGY
Super Solid Build Quality
The deck and hull sections are formed and sealed together in one single operation = incredibly durable. The join line is invisible and 100% secure.

TST is creating a product that is lighter, stronger and smoother finished than rotomoulding.

Our polyethylene is anti-UV treated and highly resistant to knocks and scratching = exceptional durability.

Molded external fin inserts = no penetrations through outer shell and maximum strength.
TECH SPECS
 Code: 106844
Model: Ouassou
Shape: Sit on Top
Length: 8'6" / 260 cm
Width: 31.0" / 78 cm
Weight: 39 lbs / 18 kg
Max Load: 242 lbs / 110 kg
Capacity: 1 adult + 1 child
Drainage Holes: Yes
Plug Supplied: No
Footrest: Fixed Footrest
Technology: TST
Product Type: Rigid - Thermoformed
Country of manufacture: France