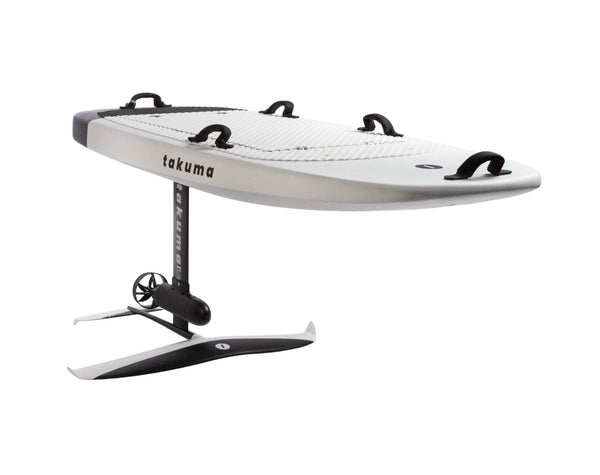 FREE
SHIPPING
100% MONEY
BACK GUARANTEE
ONLINE
SUPPORT 24/7
Sku:
takuma-efoil-cruising-2
Ever wanted to ride a magic carpet? Takuma Cruising eFoil is the easiest way to get you there. The powerful motor allows the board to travel at speeds of up to 28kph (17.4mph) whilst the flight time reaches up to 1h 45m.

Takuma Cruising 2 eFoil is designed to make eFoiling easy and accessible to anyone. With a precise control via bluetooth remote, you're in charge of the speed. You can make it as fast or as easy going as you want.
We offer tuition and taster days! Get in touch for more info!
eFoils are available to order - please get in touch to customise and make sure you're getting the right specs for yourself.
Top Speed
up to 28kph

Max Range

65 to 70 minutes with the 25ah battery and up to 100 minutes with 35ah battery. Range depends on weight, conditions and level

Charge Time

3 hours (25ah) / 4.5h (35ah)

Board size

6'3 x 30" 150l

Front Wing

1900cm2

Mast length

50cm

Battery

Li-ion 43.2v - 25ah removable battery
Li-ion 43.2v - 35ah removable battery


Motor

3Kw brushless motor

Board Material

EPS Board with fibreglass finishes
sfs