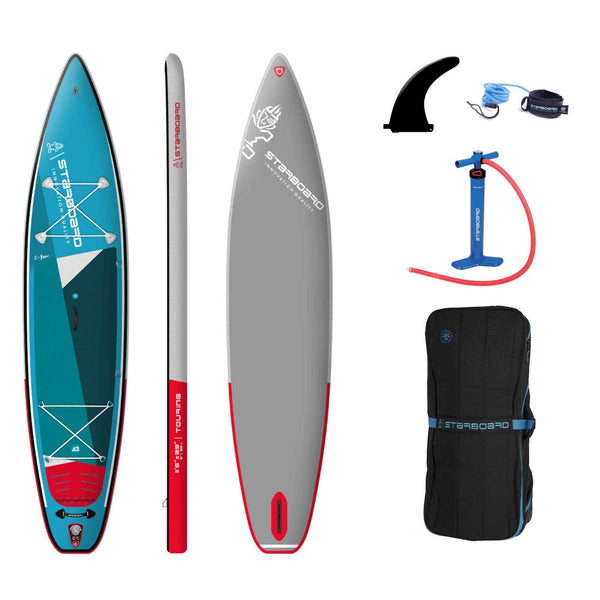 FREE
SHIPPING
100% MONEY
BACK GUARANTEE
ONLINE
SUPPORT 24/7
Let's embark on a thrilling exploration of beautiful waters, but first, we need to find the perfect Touring board.

Starboard Touring ZEN is designed for both short and long distance paddles, offering excellent performance in flat or slightly choppy conditions and everything in between. Its voluminous but elongated nose helps you handle choppy waters with ease, carry essential gear, and ensures superior stability. Additionally, the squared tail creates a stable platform for executing step-back turns.

To enhance tracking and glide, the boards boast a straight outline and a relatively narrow midsection, allowing you to keep the paddle closer and achieve greater stroke efficiency.

Furthermore, all Touring models come equipped with edge release technology around the tail, reducing drag and ensuring a smooth laminar flow behind the board. Longer boards excel in providing superior glide, while slightly shorter ones offer easier turning capabilities.

Now, let's explore the different Starboard Touring board options available:

11'6" x 29" Ideal for riders up to 100kg, this board is lightweight and easy to maneuver. If you prefer a highly maneuverable Touring board or are a lightweight paddler, this is the perfect choice for you.

12'6" x 28" With its narrow width, this board accelerates faster and improves paddling technique by allowing easier side-to-side paddle changes. It serves as a great crossover between race and Touring boards and is suitable for riders up to 90kg. The 6" thick model ensures maximum buoyancy and stiffness.

12'6" x 30" This model strikes the perfect balance between speed, stability, and maneuverability, making it an excellent all-around Touring board. Suitable for riders up to 110kg.

14'0" x 28" Featuring a narrower 28" width for faster acceleration and improved paddling technique, this 14'0" long board offers impressive speed, serving as a versatile crossover between race and Touring boards.

14'0" x 30" Designed for riders up to 120kg or those who carry gear on long-distance paddles, this board provides enhanced glide. Equipped with bungees to secure your equipment, it ensures a controlled and stable experience.

14'0" x 32" The Touring L model is perfect for larger paddlers up to 135kg, and for those who need to carry bulky and heavy gear on their explorations. Despite its wide outline, this board maintains excellent glide, making it the go-to choice for adventurous exploring.

Choose the Touring board that best suits your needs and get ready for an unforgettable water adventure!
What does Zen SC mean?
Starboard offers a variety of constructions to cater to all types of riders and experiences. Within their selection, the Zen range stands out as an exclusive value offering, providing boards that fall within the more affordable price bracket while maintaining excellent quality and stiffness.