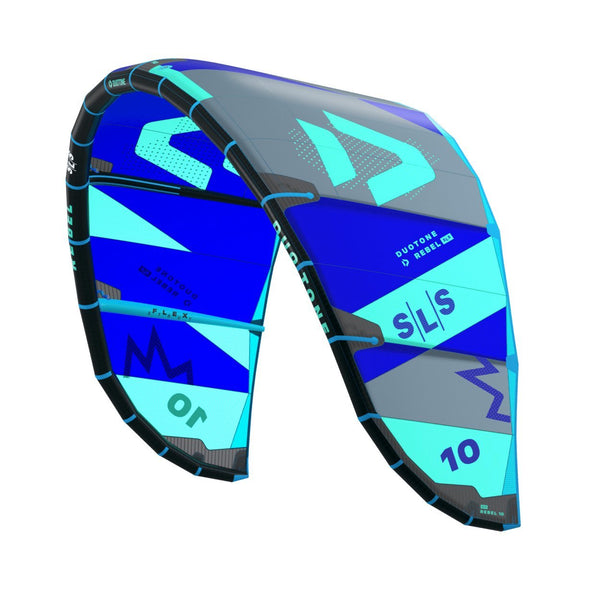 FREE
SHIPPING
100% MONEY
BACK GUARANTEE
ONLINE
SUPPORT 24/7
Rebel SLS is our team's favourite big-air kite. With legendary lift, hang time and forgiving kite loops it's the perfect kite for any twin tip rider. From beginner to advanced, it'll help you progress your riding faster than anything else.
The 2024 iteration of the Duotone Rebel SLS, a legendary kite that continues to redefine the riding experience for a new generation of enthusiasts. This year, Duotone's design team has focused on enhancing the kite's performance in multiple aspects. Notably, they've refined the wing tips to elevate handling and turning speed while optimising canopy tension to bolster wind resistance and maintain kite shape regardless of wind strength.
The innovative combination of Penta Tx and Trinity TX materials creates a kite with exceptional rigidity, ensuring it holds its form even in challenging, gusty conditions. This results in a consistently smooth and powerful delivery of energy. The incorporation of Flex Struts permits natural tip twisting, delivering intuitive control and dynamic steering.
Beyond its impressive power, the Rebel SLS offers unparalleled control, with instant depowering capability that allows confident navigation in strong conditions and facilitates extraordinary height in big air jumps.
The kite's explosive take-off and vertical boost will propel you to new heights, and its extended hangtime will make you feel like you're effortlessly floating in the air, extending your flight time with every jump. Even in light winds, the Rebel SLS remains highly capable, delivering ample low-end power thanks to its reduced weight.
This reduced weight also enhances drift, enabling you to swing beneath the kite during landings and recover easily. The Duotone Rebel SLS is the ideal choice for freeride enthusiasts and those seeking massive jumps with extended hangtimes. Elevate your local spot's height scores and go big with the new Rebel SLS.
Duotone Rebel SLS 2024 Key Features:
Effortless Jumping: The Rebel SLS stands out as the easiest kite in the range for jumping. Simply redirect and hold the edge to enjoy substantial lift every time.
Heightened Vertical Boost: For 2024, the Rebel SLS has been fine-tuned to deliver even greater vertical boost, transforming it into a jumping machine that consistently delivers impressive performance.
Instant and Precise Depower: Total control is at your fingertips; simply sheet out on the bar, and the kite rapidly reduces power, quicker than any other kite in the range.
Agile and Responsive: The Rebel has been redesigned for enhanced responsiveness, allowing you to manoeuvre the kite around the window with precision and power. It responds swiftly to gusts, making it easy to dump power when necessary.
SLS Construction: The SLS construction reduces the kite's overall weight while enhancing performance by providing a stiffer frame. Materials like Penta TX and Trinity TX maintain lightness and durability.
Superior Drift and Extended Hangtime: The Rebel SLS excels in drift, enabling you to regain control after big jumps and enjoy extended hangtime in light winds, making trick execution effortless.