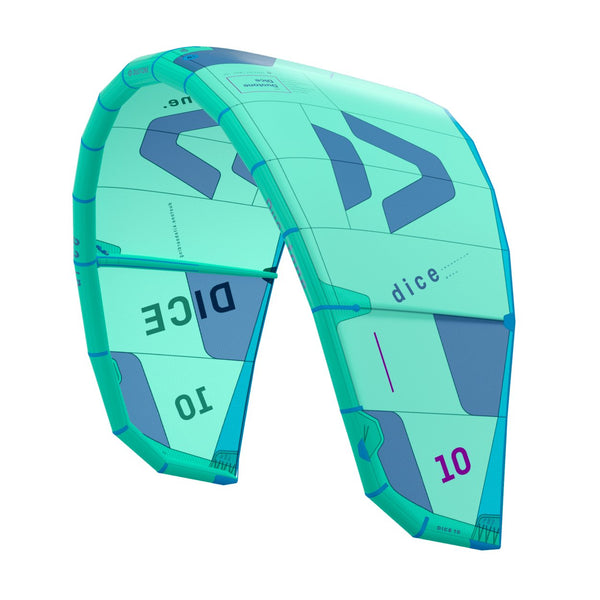 FREE
SHIPPING
100% MONEY
BACK GUARANTEE
ONLINE
SUPPORT 24/7
Vendor:
Duotone Kiteboarding
The Dice is the kite for you if you're an advanced rider, you love to do freestyle but also want a kite that can handle huge airs and smash some waves! Perfect for kite loops, the performance of the Dice will excite you every time you hit the water.
DUOTONE DICE SLS
The Dice SLS gets a performance boost fit for a 911 on a racetrack! Designed for the advanced kiters looking to maximise every session, the kite delivers across a wide range of disciplines. The SLS construction reduces the overall weight of the kite by up to 15% compared to regular constructions and creates a stiffer airframe that offers the most precise handling. The jumping capabilities have been dialled up to deliver extremely powerful lift on take-off and a massive hangtime. The bar feeling is extremely direct, and the turning speed of the new kite is unrivalled, always giving you all the feedback you can desire and total control. Kite loops are powerful, and you can dial in the type of loop you want to do. This kite is the weapon of choice for riders looking to get radical with their kite loop progression. The reduced weight also improves the unhooked capabilities as the kite can hang in the air for longer while you perform the latest freestyle tricks. In the waves, the improved response will allow you to thread lines through the trickiest of sections and smash the biggest craves, whilst steering the kite actively. Riders will be blown away by the performance enhancements on the new Dice SLS, delivering across a range of disciplines to a world-class level. It's the one kite quiver killer for the advanced rider to get the most out of every session.
PENTA TX
Penta TX, the guarantee for a sportier, more precise and crisper feel of the kite, achieved by 15% less overall weight and a five times higher tear resistance. Penta TX replaces Dacron and is showing 50% less elongation compared to standard Dacron. Penta TX is a quite stiff material, resulting in a high structural stiffness, especially recognizable in strong wind conditions, leading to less deformation of the overall structure of the kite. It's responsible for a very precise timing when edging, releasing the edge and all steering impulses - the precise and reliable steering of a racing car. Penta TX is used in the leading edge and the center strut.