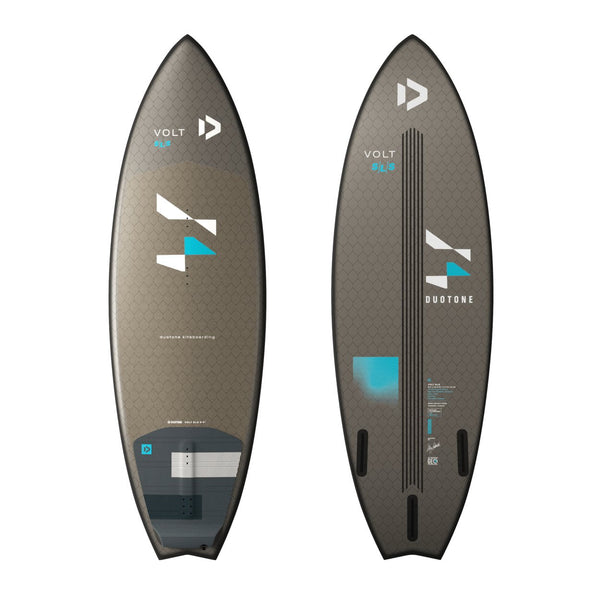 FREE
SHIPPING
100% MONEY
BACK GUARANTEE
ONLINE
SUPPORT 24/7
Introducing the Volt SLS for 2024, a cutting-edge small wave and light wind board designed to get you on the water and having a blast in no time. This board marks Duotone's inaugural entry into the Concept Blue range, a significant stride toward a more sustainable future. Crafted with care in Italy, the Volt SLS boasts an environmentally conscious design, aiming to minimise its impact on our planet and the precious oceans we cherish.

To achieve this, Duotone has integrated a host of innovative materials. The Zero Impact Core, Bio Resin, Cork Stringers, and Basalt Fiber have replaced conventional materials, such as glass and carbon. Basalt Fiber, derived from volcanic rock, offers comparable strength and characteristics to carbon while being both natural and abundant, contributing to a more eco-friendly profile.
Encasing the Zero Impact Core is the robust Innegra Shield, enhancing the board's durability and longevity, ensuring it remains a trusty companion for the long haul. Additionally, the Volt SLS features Duotone's Cork Shock Absorber 2.0, enhancing your overall riding experience.
Out on the water, the Volt SLS shines with its swift rocker line, perfect for harnessing light winds and delivering exhilarating speed on the waves. Tailored for smaller waves, its rail design enables precise vertical snaps and provides exceptional grip for more extended bottom turns. Even when the conditions aren't cooperating, the Volt SLS Concept Blue promises an incredibly enjoyable ride.


Basalt Fiber:
Duotone's sustainable approach replaces carbon and glass fiber with Basalt Fiber, sourced from volcanic rock. With minimal environmental impact, this natural fiber mirrors the mechanical properties of carbon.

Zero Impact Core:
Partially crafted from recycled EPS, Duotone's Zero Impact Core breathes new life into waste materials, reducing the environmental footprint.

Small Wave Surfboard:
Designed to maximize fun in small surf conditions, this board maintains ample speed and power, even with minimal kite power.

Fast in Light Wind:
The board's thoughtfully designed rocker line ensures exceptional speed, allowing you to take to the water in lighter winds with ease.

Excellent Grip and Tight Turns:
Engineered rails provide outstanding wave grip and facilitate precise vertical turns on the wave's face.

Innegra Shield:
The comprehensive Innegra Shield coverage safeguards your board against everyday wear and tear, keeping it looking and performing at its best.

Discover the Volt SLS Concept Blue, just the beginning of a growing lineup of eco-conscious surfboards from Duotone, where performance meets sustainability.