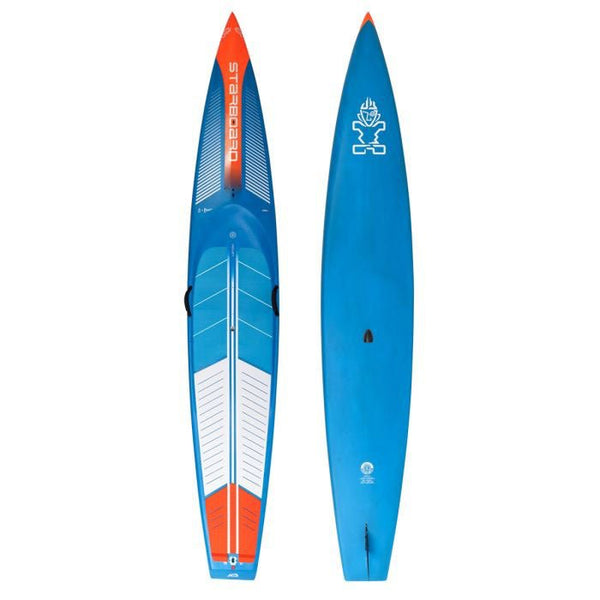 FREE
SHIPPING
100% MONEY
BACK GUARANTEE
ONLINE
SUPPORT 24/7
Starboard's mission with Gen-R was to create a fast, user-friendly racing board with a thinner profile for technical races, small swells, and surfing.
Starboard Gen-R falls right between the Sprint and the All Star. The Sprint being their fastest ocean model and the All Star being an all-conditions racing SUP and the most winning board of all time.
After seven rounds of prototypes and extensive testing with multiple riders, they've achieved an impressive design with quick acceleration, balanced glide, minimal bow splashes, and solid stability during turns.

Starboard Gen-R Key Features:

Faster acceleration - The low nose rocker and narrow nose outline contribute to increased acceleration and overall efficiency on flat waters. This acceleration is crucial for technical races, beach starts, and explosive sprints after buoy turns.
Balanced trim - The refined rocker, outline, and even volume distribution create a well-balanced glide.
Strong turns and tail stability - The wider tail outline combined with the ample deck volume make it comfortable to maneuver and remain stable during turns.

Starboard Gen-R is a key model for surf racing and all-around paddling. The slightly recessed deck has been optimised to provide great stability while remaining easy to use during starts and beach entries. A lower rail height and reduced nose volume are highly sought-after features (especially by lighter riders) for technical races, buoy turns, and easy maneuverability in choppy conditions.
The Gen-R strikes an excellent compromise between the flatwater-oriented Sprint model and the all-around nature of the All Star. Additionally, young riders will love this board for its speed and user-friendliness.
If you need an advice regarding sizes, please get in touch. Same, if you want to demo Starboard Gen-R - we've got a board available near Edinburgh, Scotland.